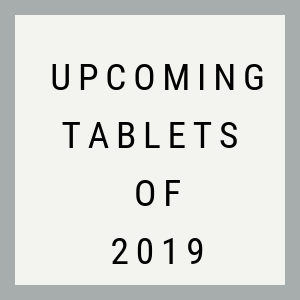 Technology helps us in improving our lives and makes things better in many ways. Technological and gadget updates are trending in every part of the world. From collecting stamps in good old days, we have grown to collect updated gadgets as present-day hobbies. Technology drives our day to day lives, and so does the need to upgrade ourselves to better devices to match the upcoming pace of the world. With new devices comes greater improvements that make life easier. Let's dive at some upcoming trends on tablets for 2019.
Tablets have started becoming a daily essential with bigger screens, flatter, lightweight, heavy functioning just like any other smartphone. With better aesthetics come better functional aspects! There are great devices from different top brands in the market with amazing features and appealing designs. If you are looking on for procurement, then choose like a pro! We will try to pick out the dominant competitors of tablets in different genres and snag the right one for your interest.
How to pick the right tablet?
With the technological world going through an outburst of new products that claim to have enhanced performance and better longevity choosing the right one might be a difficult task. This might be your first tablet experience, or you might have owned one previously. There are good tablets within different operating systems, Android and iOS have been the major market players in the field of tablet OS, but recently windows versions have started gaining popularity among the buyers too. Android developed by Google has robust apps, with play store holding up major app purchases and multi-user logins which is handy if you use multiple devices or share devices with your family.
The iPad technology runs on iOS powered by Apple. iOS has its custom build apps, sharing between apps products is easier but with other brands and devices leaves you with hectic tasks. But it is best on quality with an impressive set of features for its users.
The edge that windows offer is that you get a personal computer like experience that makes you nostalgic while using your pc or laptop. It supports Microsoft office and is an ideal choice if you plan to work with your tablet. But window gives less smooth experience than the Android and iOS counterparts.
Apart from these is the predominant factors like screen size, resolutions and pixel sizes, performance, RAM, storage space, aesthetics like tablet design, color, camera resolution, upgrades, battery life. If you find a tablet incorporating these features consistently, then you have become a pro, and it's time to shop!
Upcoming tablets of 2019!
There are innumerable categories in which a reputed tablet can fall under. Some of them like budget tablets, gaming tablets, kids best tablet and so on. Here is a list of few bests in the market.
Apple iPad Mini 5
The exact launch date is not yet known, but yes the specifications have excessively grabbed the attention of many buyers. With 7.9" screen and dual-core performance, this tablet is expected to be with a 64 GB memory, 1.84GHz processor and 2 GB RAM to further enhance your tab experience along with an advanced fingerprint sensing. Loads of other features include face detection just like any other Apple smartphone, 12 MP camera and an iOS version of 11.2. It is expected to be released in mid-range of February 2019. iPhone lovers are expectantly waiting for its early release.
Google Nexus
There is two range of google tabs released this year. Users in love with google apps are looking forward in using tabs launched from Google. Google Nexus 8 and Google Nexus 10 is expected to release anytime during 2019. Nexus 8 is an 8.9" screen whereas Nexus 10 comes with a 10" screen. The official specs, design, and features are kept as a complete secret as is its release date. With 3 GB RAM and Quad core, this is eagerly expected among all the google lovers in this world. But it is sure to reach a new level of buyers and be a hit to the market.
Samsung tabs
Samsung under the tabs range is about to launch a set of tablets with entirely unique sets of features. The prelaunch has identified it to be the A series and the S series. Among the A series is the A 10.5, A2 XL, A 8.0 and A2 10.5. With S series is the galaxy S4 tab. The A2 XL and A 10.5 is supposed to have octa-core with 10.5" screen, 7300 mAh battery, 3 GB RAM and slight variations in camera features. Added with a 13MP camera and an octa-core, 8" display with 2 GB RAM, these are paired with 32 GB storage and a capacitive touch screen. The S4 with advanced features of 10.5 inches touchscreen, Octa-core processor paired with 4 GB of RAM and 13 MP camera to further augment the user's real experience. It also has a 7300 mAh battery. Samsung has a regular market among its consumers, with the upcoming tablet series the expectancy is a bit more hyped.
Lenovo tablets
Lenovo is set to launch a series of tabs in the 8 inches and 10 inches category. Fit with Android 8.0 OS (Oreo); the E series comes with a quad-core processor, 5MP camera, 1.3 GHz, Cortex A7 processor paired with 1 GB of RAM to further enhance the usability and provide a rich experience to the user. It also has a 2750 mAh battery. Decent battery performance is expected to hit the markets soon.
In contrast, the series comes with an Octa-core processor, 8MP camera and 1.8 GHz, Cortex A53 processor paired with 4 GB of RAM to supplement and enhance the user's experience. It also has a 7000 mAh battery. The Lenovo tablets are anticipated to smash the markets anytime and are also expected to be budget friendly.
Conclusion
The big players have always dominated the gadget world, and the tablets fall on to the same place where the major players are entering the tablet segment. With advancements even at micro level making big impacts, the players of the digital world keep updating the techno community with advancements as frequent as almost every month! So here's the prospective list of the tablets going to bump the 2019 markets soon to make your buying list a lot easier. Relax, set back and shop like an expert!