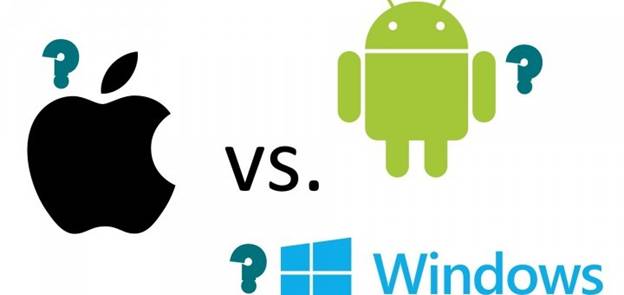 Nowadays the Mobile market is totally flooded with the Smartphone's so it's very hard to judge the best phone for you. Here are some of the factors that will help you while buying your new phone:-
1. Price factor:- 
Price is the first factor, before buying everyone uses to see there pocket. As per the budget phones, android is way more ahead than windows and IOS. IOS's leading brand Apple is much expensive than android and windows.
2. More choices:-
Users have more choice's with respect to the IOS to choose their brand with the Android. There are many companies manufacturing Android phones with the different price range.
3. Expandable memory:-
In Android phones, we can use Micro SD card to expand the memory of our phones. But in iPhone, there is no such option available.
4. Dual SIM support:-
Android supports Dual SIM slots which is helpful for users to use two connections at a time. But iPhone restricts users with a single SIM slot.
5. File manager:-
From my point of view, the File manager is essential because it helps in editing, locating, renaming and changing the default location of the given file. It is only provided in Android phones and on the other hand, IOS phones Lack this basic thing too.
6. Customization:-
Android is the only platform which provides customization to there Smartphone's as per the users choice. No such thing is available on IOS. It will remain as default.
7. Quick Updates:-
Android is based on Google so the updates are easily available. Android version updates are faster than IOS and windows phones.
8. Apps from any source:-
In android Smartphone's apps can be installed from anywhere. There are many resources to download and install apps. But in Ios and windows phone no such privilege is given to the users until jailbreak.
9. Easy connectivity to Other phones:-
Android phone has easy connectivity with other Smartphones. This helps them sharing data easily but there is no such connectivity and sharing in ios and windows phone.
10. 3.5mm Earphone jack:-
It is a basic need for smartphone users but Ios phones do not have earphone jack which makes it not more preferable for the music lovers. Android provides earphone jack and even customization to the music treble and bass.
11. Easy Download:-
As for today's generation, everything is available online so the user can download movies, songs, web series etc. It is only possible on Android phones and in IOS and windows phones it a third party content so you cannot do any such thing.
12. Mobile Payment and NFC:-
Android-based companies provide payment options such as Samsung Pay and even have NFC option which is Near Field Communication which is useful. No such thing is available on IOS and Windows Smartphones.
13.Universal Charging Cable:-
As we all know Android phones are the most sold smartphones. The cable used by Android and Windows phone is universal so it is easily available. On the other hand, IOS phone supports a very different cable for charging.
14. Fast charging:-
Fast charging is only supported by Android phone which can half charge your phone in less than 20 minutes. No such support for ios and windows phones.
15. Battery Durability:-
Android phones do have a more reliable battery as they offer 4000 to 5000 mAh batteries which can be used for 4-5 days after a full charge. So compared to Ios phones they are not more durable and only can be used for 1 day.
16. Infrared sensor:-
IR sensor or IR blaster is available on Android phones only. This sensor helps to connect to other devices such as TV, AC, and other gadgets which can be run by remote control. IR blaster turns your Smartphone into Remote control. No infrared sensor in ios and windows phones.
17. Clear RAM and Cache:-
It is very easy to clear RAM and Cache memory in Android phones but no option in IOS phones.
18. App market:-
The Google Play store market is better than the Apple app store and Windows market because mostly everything is available in the android market and also free of cost. But in Apple app store mostly everything is in the Paid version.
19. RAM:-
Android phones are much faster in working because there are many smartphones which are available with 6GB and 8GB RAM which makes them way more faster than IOS phones.
20. Dual Camera:-
Dual camera is available in Both Android and Ios phones But Ios phone with a Dual camera is overpriced as compared to an Android phone.