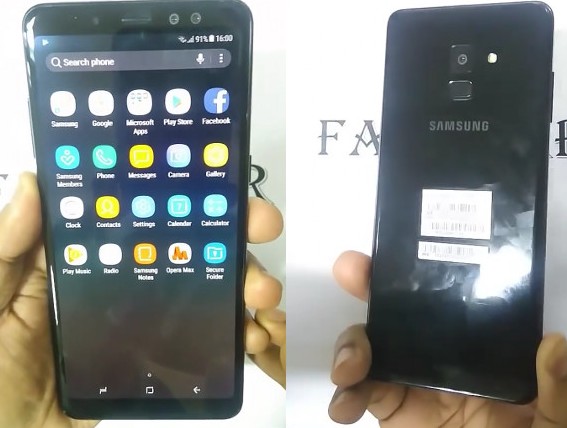 Here comes bumper Happy New Year gift from Samsung with Samsung A8 and A8+. As per the leaks, it is said that Samsung galaxy A series will be presenting the new year 2018 flagship phones.  The leaks show that these Flagship phones will be A8 (2018) and A8+ (2018). These phones are expected to be launched in early 2018. The leaked images show that these phones are going to be bezel-less with full view display. As per the description, it will be supporting dual SIM Nano. It comes with a hybrid slot which shows that either 2 SIM's at a time or one micro SD card and a SIM. The body will be metallic.
Display resolution:- The display resolution will be Super AMOLED  full HD 1080×2220 pixels which will be 18:9 and over 90%bezelless design.
Charging support:- It supports fast charging with Type C charging port.
Camera & connectivity:– It will be having Front facing the Dual camera with LED 16MP with 8MP which will be very helpful for Selfie lovers it will be supporting portrait mode also but one the rear side there will be only single lens camera and For connectivity, it will support NFC, GPS, Bluetooth, and Wifi.
Android version & sensors:– This flagship phone runs on Android 7.1.1 Nougat and there will further updates time to time. It will support proximity sensor with a rear Fingerprint scanner and 3.5 earphone jack.
Processor & RAM-ROM:– The processor will be Snapdragon 785 Octa-core Exynos 7885 Soc clocked at 2.2GHz which will be supported by 6GB RAM and 64GB ROM.
As per the leaked manual by Official Samsung site, there will be no Bixby button and will come with some fixed Samsung apps like Samsung Pay which is for the bill payment and more through the phone.
FRONT SIDE View:– The front side of the phones shows the infinity display with 18:9 and one speaker at the top and left to that is front camera which is dual camera as it is the first Samsung phone which will have dual front-facing camera and on another side it is LED indicator with Proximity and light sensor now we will see at the left side of this bezel-less flagship phone is volume rocker and under that is SIM tray and the central portion is touchscreen. On the right side, we can see a speaker and the power button for locking and opening the phone.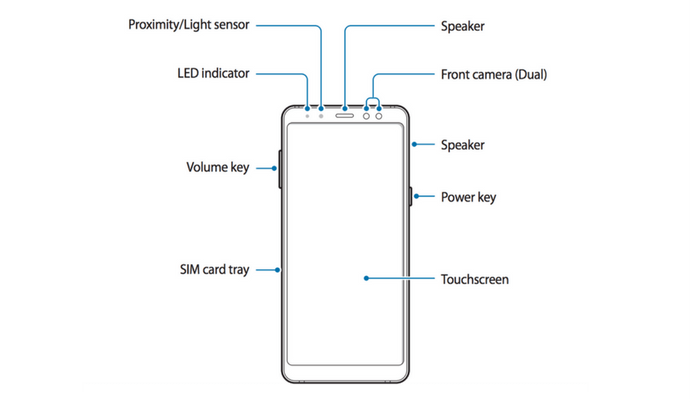 BACK SIDE View:– The back side of the phone demonstrates its other major features. Starting from the top on the left side there is a microphone and on the right side, it's a SIM card/ Memory Card tray which will be ejected by the given SIM ejector tool. Left side there is GPS antenna. In the center, there is a camera with LED Flash and which is followed by the Fingerprint recognition sensor which much similar to Samsung s8+ after that there is the NFC antenna or MST antenna. But the main antenna is at the bottom with earphone jack and microphone.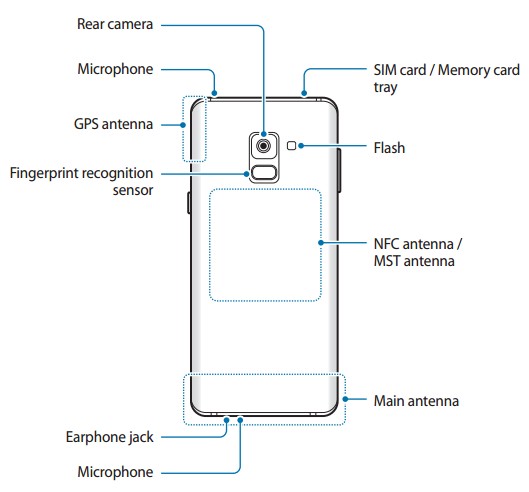 These flagship phones have IP68 and are water resistant to dust free body. The battery is expected to be 3500 mAh or more. The expected price will be 600$ which is estimated to Rs38,000 – Rs40,000. The launch date is expected to be the end of December 2017 and will be available from January next year.