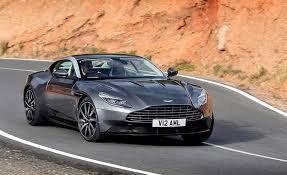 Latest DB11 Aston Martin with the new platform, new turbo engine, and the new look is truly a game changer. The DB11 is the all new car that will replace 12-year-old DB9. The DB model is the core of the Aston Martin brand as the company is best known for this model and around this, all the models are arranged. This new model is demonstrating much more visual differences from its previous designs. There is a massive clamshell bonnet of aluminum at the front of the car and it is claimed by the company that it is the largest aluminum pressing in the automotive history. DB11 looks improbably wide from the top and the area behind the doors is outrageously tight as the car is wearing some kind of automotive corset. One standard Aston feature of distinctive horizontal grills on the edge of the front wheels is now become functional too for the first time ever. They are now moved up against the wheel arch and can evacuate the air too that otherwise would be caught around the tyre and thus reducing drag in the process. Another clever and unique innovation in this new model is AeroBlade. The air is trapped inside the grilles by this patented device and then channeled to the back of the car where it is pushed upwards with the help of a tightly tapering vent in the tail. This will create an invisible air spoiler that sets automatically according to the speed and also produces less drag than the conventional wing. The rethought side strakes are accompanied by roof strakes as these are slightly separated rails than can easily run over the window lane and give the impression of a floating roof. They can be black, silver or body colour with the roof finished in black or body colour. 
Built on unique platform
The DB11 Aston Martin is built on a unique platform that acts as the foundation for the broader range of future models. As there is now lack of new models, so Aston Martin managed to hit a plateau in the growing market. DB11 is a big heavy car along with compliant suspension so, it can move around a bit on the undulating roads, especially when braking from very high speeds. DB!! Aston Martin is finely finished car with beautifully embellished cockpit in the British style.