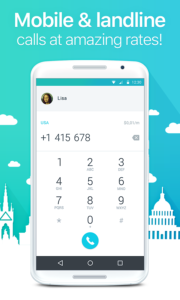 Till now, calling landlines from your mobile device can be an expensive affair but now this problem is also going to be ended!! Users of many renowned internet applications will now able to make voice call even on the the landline numbers from various mobile apps like Skype, WhatsApp and Viber. As a result, this move may result in reducing the charges for voice calls.
If you look around, almost more than 90 percentage of people are using smartphones. Out of which 80 percent of people have the whatspp application on their mobile phone and is also considered as one of the most used online messaging service in India, while Skype to make video calls around the world. At this competitive edge where all these services are getting more and more cheap and easily accessible, Indian Government has also planned to take a great initiative to integrate with the telecom operators in the country.
This is a consumer-friendly move from the perspective of consumers and would cover ranging from MTNL or BSNL's fixed lines to the mobile numbers on Vodafone, Airtel, etc. It is an inter-connect agreements between ISPs and telecom operators in the arm for Mukesh Ambani's Reliance Jio Infocomm which will be soon in operation and all the users can avail its benefits.
Yes, it is true that the quality of the voice call will depend on the internet speed and upon the service providers, but this will help many of us to save a large amount of money which gets to spend on voice calls. However, for transferring calls on several mobile operator networks, internet companies need to pay charges to TRAI. Once rolled out, you can also save more money while making calls to any landline numbers from your apps.